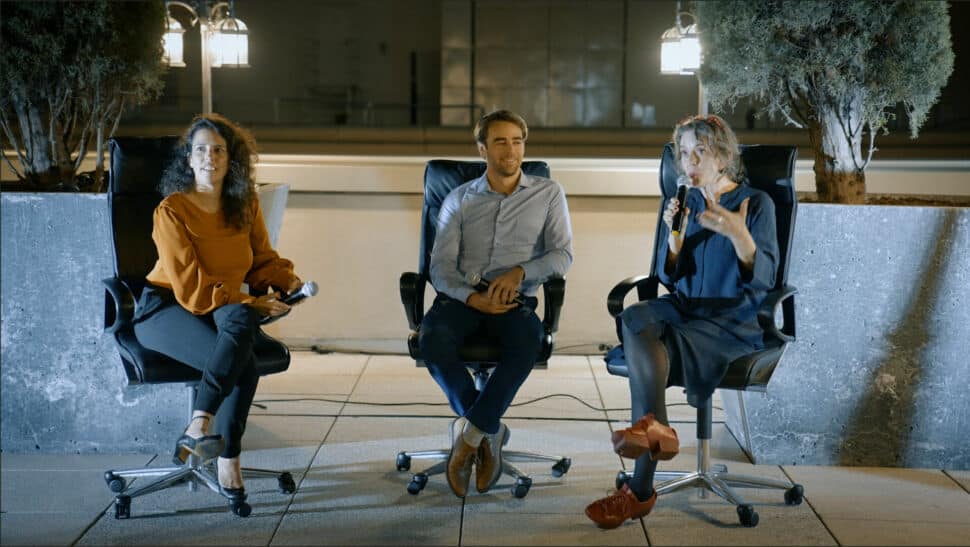 Vault Platform recently hosted a rooftop event featuring Tyler Shultz, former employee and whistleblower in the case of Theranos, and his lawyer Mary Inman, Partner at Constantine Cannon LLP. We heard Tyler's first-hand experience of working at Theranos and debated the role of whistleblowers in identifying and preventing risks in the modern workplace. Here are our key takeaways from the insightful discussion.
The Theranos Story
We kicked off the in-person event with Tyler's account of Silicon Valley's biggest scandal – the Theranos story.
Founded in 2003, Theranos was thought to be revolutionizing healthcare with a product that made blood testing faster and less painful – the Edison. Theranos' founder and CEO, Elizabeth Holmes, raised approximately $724 million of capital from venture capitalists and private investors and at one stage, the company was valued at $9 billion. Tyler was a biology major at Stanford University who joined Theranos as a research engineer. He is also the grandson of the late George Shultz, former US Secretary of State, who was a Board member at Theranos. In 2015, Tyler was one of the former employees that exposed to the world that the Edison device wasn't what it was claimed to be after he had expressed his concerns internally. The SEC charged Theranos, Elizabeth Holmes, and former President Ramesh "Sunny" Balwani with fraud. In January 2022, a jury convicted Holmes on four charges: one count of conspiracy to defraud investors, and three counts of wire fraud against investors.
Tyler gave the audience fascinating insight into his experience of being a whistleblower; how it felt to be in a position where speaking up internally fell on deaf ears, and what went through his head when deciding to report his concerns externally.
Lessons Learned
The panel went on to explore what good corporate compliance means in today's workplace and how organizations can strive to get there. So what lessons can compliance professionals and Corporate Counsels learn from the Theranos case?
Value Those Who Choose To Speak Up
Whistleblowers like Tyler can often face stigma and the threat of retaliation for reporting incidents of misconduct. But Mary highlighted that whistleblowers are like canaries in the coal mine and should actually be viewed as an organization's most loyal employees who care enough to Speak Up about difficult truths.
Not only do whistleblowers play a critical role in identifying business risks but they also safeguard the welfare of that organization and even society. In the EU, for example, anyone who reports a breach of Union law that is harmful to the public interest is considered to be a whistleblower. Many organizations therefore need to change the way they view employees who choose to Speak Up, recognizing them as a critical front-line defense. Whistleblowers should be celebrated for their bravery in speaking up and valued for their efforts to improve the organization. This may be through positive annual performance reviews and an openness to hiring former whistleblowers, for example. Here are five tips to encourage your employees to Speak Up.
Consider the Costs
The demise of Theranos and subsequent trial is a prime example of the high costs of misconduct. For organizations that want to improve their bottom line and do the right thing, it's crucial to put the proper strategies in place to combat misconduct and protect themselves from hefty financial costs, headline-grabbing media coverage, and other major risks.
Take An Ethical Stance
Tyler and Vault Platform's CEO Neta Meidav talked about their own experiences as founders and why ethics should be baked into every business from the get-go, regardless of external pressures. For example, many founders are encouraged by investors to paint a picture of what their company is going to be, rather than what stage it is at that moment in time. But even as organizations seek investment and think about growth strategies, it's important that they never lose sight of their integrity and the values that likely led to the company's creation in the first place.
Could A Misconduct Reporting Solution Have Helped?
When asked whether Vault's all-in-one speak-up and resolution software could have helped Theranos, Neta said: "No, I don't believe that Vault could have helped Theranos. Our technology can only deliver results when leadership takes an active role in driving integrity. The good news is that I truly believe Theranos is an edge case; the vast majority of companies are interested in safeguarding their cultures and values, taking an ethical stance, and actively protecting their employees, investors, and customers."