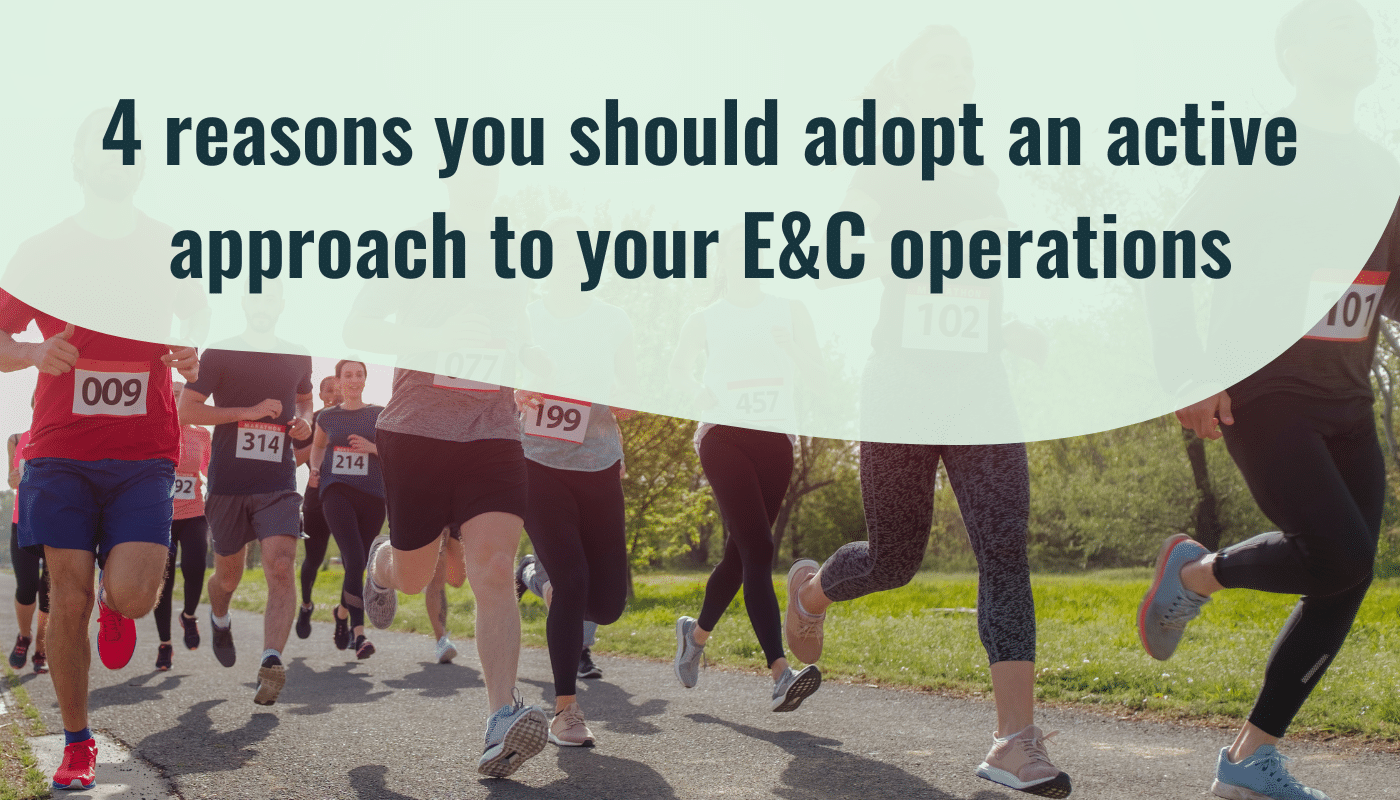 In the wake of the collapse of Silicon Valley Bank, another financial crisis is looming. And with near- and long-term challenges already posing a significant threat to businesses globally, it's more important than ever for organizations to evolve.
When it comes to ethics and compliance (E&C), the organizations that replace reactive mitigation with active prevention as their operating model are best placed to not only weather the storm but stay competitive. Adopting an Active Integrity approach today will support your organization's most critical resilience, profitability, efficiency, and workforce needs. Here's how.
1. Safeguard your business's future success
According to a 2023 PwC survey of over 4,000 business leaders, some of the biggest threats of the coming decade include business reinvention, growth, and profitability. And with almost 40% of CEOs expressing doubt that their business will survive the next decade without significant reinvention, the reality is that organizations must adapt or die.
One priority area businesses must consider is E&C, as a strong ethical climate is linked to increased customer loyalty. Ethical concerns are also recognized as the highest priority for Gen Z consumers when deciding which businesses they patronize.
It's clear that ethical accountability is poised to take a central role in how businesses operate in the future. To center integrity as a critical business function successfully, organizations must connect their E&C efforts to key business KPIs and objectives. By capitalizing on real-time data analytics, audit trails, and transparent internal reporting with solutions like Vault Platform, organizations can better demonstrate E&C efforts and outcomes and clearly link these to wider business goals.
2. Reduce the cost of misconduct
Misconduct costs organizations billions each year. According to our Trust Gap report, misconduct could cost US organizations $20.2 billion based on rehiring efforts alone. PwC's 2020 Global Economic Crime and Fraud survey estimated $42 billion in losses among respondents in a 24-month period. And that's not all. A 2022 report by the Association of Certified Fraud Examiners estimates that organizations lose 5% of their revenue annually to fraud and in 2020, whistleblower payouts from the IRS hit a landmark $1 billion. When we factor in the intangible costs, including reputational damage and loss of trust from shareholders, employees, and customers, the costs of misconduct can become alarmingly high.
To have E&C truly power the business, organizations must have access to data insights and the ability to communicate directly with reporters. They can then systematically eliminate standalone issues as well as the root causes of misconduct, minimizing the risk of litigation and reputational damage.
3. Recruit and retain a top-performing, engaged workforce
Following a series of layoffs in the tech industry and the rise of conscious quitting, the talent landscape has never been more turbulent. Macroeconomic instability, continued layoffs, shifting working norms, and widening skills gaps have all contributed to chronic talent attraction and retention challenges. At the same time, employees have become more purposeful in terms of the organizations they work for, opting for organizations that are visibly doing good.
Active Integrity is perfectly positioned to help organizations address their core talent challenges. Trust is forged in what you do, not what you say. When organizations approach their E&C efforts from an intentional, purposeful perspective, it communicates to their workforce and prospective employees that they are actively invested in making positive change.
4. Scale efficiency across the whole organization
Misconduct can take an average of 12 months to detect with a hotline in place and whistleblowers can find themselves reporting internally five to six times before taking their concerns outside company borders when nothing gets actioned. These huge efficiency gaps have made it near impossible for organizations to act with purpose and integrity when it comes to E&C issues.
But when organizations introduce a multichannel approach, they're better able to bridge these internal gaps, meaning they stay compliant without compromising efficiency.
While incumbent solutions often lead to downstream inefficiencies in reporting and tracking, modern software solutions like Vault Platform operate at an internal level and standardize misconduct data, meaning organizations have complete oversight over the end-to-end investigation process. This means they're able to take a data-driven approach to monitor the company's ethical health in real time, helping them spot patterns, predict issues, and shift from reactively tackling standalone issues to an active prevention methodology.
Check out our Active Integrity: A new code of ethics for forward-thinking businesses ebook to find out more about the benefits of Active Integrity.