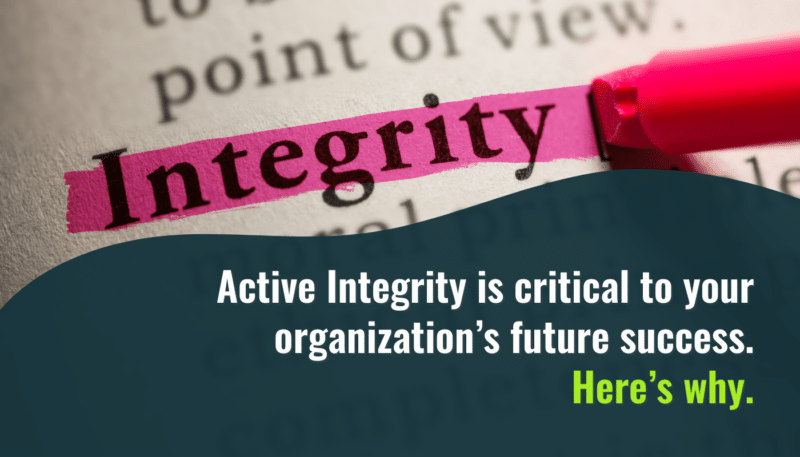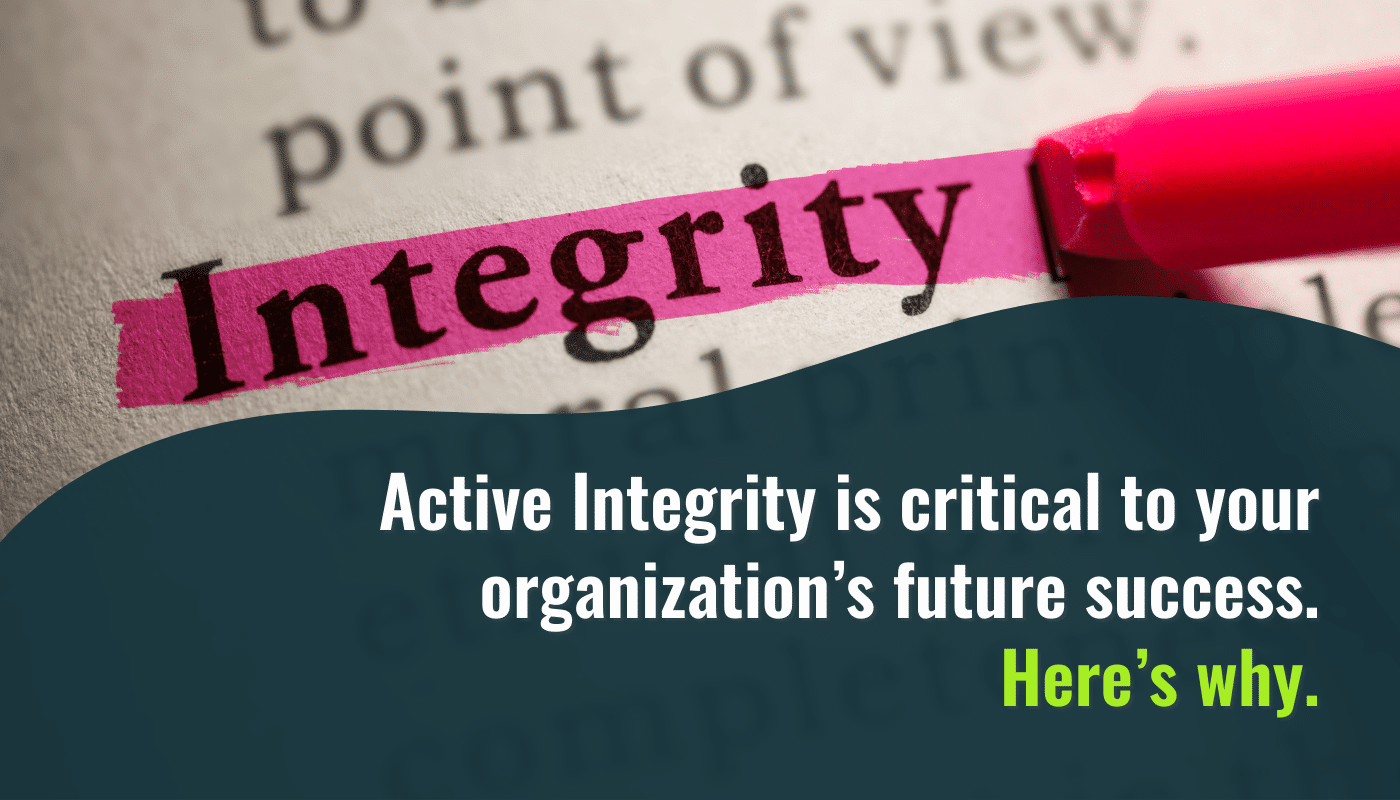 In the age of social media, misconduct issues can often hit the headlines faster than we can blink. An internal problem can quickly snowball into a huge fine or lawsuit. And in the age of always-on media, most organizations are feeling understandably cautious, if not a little fearful, of the potential repercussions when internal issues get unearthed. McDonald's, for example, recently found this out when the fast food corporation found itself in the eye of a media storm following its failure to intervene on sexual harassment allegations.
The restaurant chain certainly wasn't the first organization to see its misconduct issue splashed across the press, and it won't be the last. But there's one thing that might have not only stopped the story from leaking but prevented the sexual harassment from happening at all: Active Integrity.
Active Integrity is increasingly becoming the moral compass for modern organizations that defines how they act and do good from a business perspective. In this post, we'll explain exactly what it is and why it's important.
Integrity is more than compliance — it puts purpose at the core of your organization
Historically, the ethics and compliance (E&C) function has been built on reactivity. Organizations have relied on it to keep the organization safe from harm and risk, which has often meant dealing with misconduct issues after they occur. The problem is, this approach is focused on problem resolution, rather than problem prevention. This leaves organizations doing the best they can to avoid risks, rather than preventing them altogether.
But increasingly, organizations are forging a new approach to E&C that focuses on moving past this approach. Instead of trying to put out misconduct fires, organizations are actively trying to prevent them from starting. Instead of simply complying with regulations, they're working towards doing good because it's the right thing to do.
Active Integrity is an approach to E&C that means organizations put integrity at the center of how they operate. It means they intentionally strive to do good through every strategic decision and process — defining everything from business goals to mission, values, and culture.
At a fundamental level, Active Integrity is a purpose-led approach to doing business that requires a long-term, active commitment and shared accountability to creating an organization that lives and breathes its values.
Research proves that this approach is good for business:
According to a

2022 report

, organizations with a strong ethical culture are 467% more likely to have a positive impact on employee behavior.
Organizations with established ESG reporting tend to experience higher levels of

profitability

and

performance

.
According to a

2017 study

, a strong ethical climate is linked to increased customer loyalty.
4 reasons why integrity is critical for future business success
In the coming decade, businesses are due to face a slew of new challenges that could threaten survival. According to a 2023 PwC survey of over 4,000 senior leaders, almost 60% of respondents don't believe that their business model will be economically viable within the next ten years without some major changes.
Business reinvention will be critical for future survival, growth, and profitability. But that can't happen if organizations continue to operate in the same way. In this context, integrity isn't just a new way of operating as a business — it's a way of ensuring future business success.
In the near term, we're seeing four key changes that will support and enforce this shift.
1. The price of misconduct is rising
E&C teams have always been on the frontlines of minimizing risks to the business. But that's only going to get harder as organizations face increased financial sanctions and reputational damage when misconduct occurs.
In our Trust Gap report, we calculated that misconduct could cost US organizations over $20 billion based on rehiring efforts alone in a 12-month period. Meanwhile, whistleblower payouts from the IRS hit a landmark $1 billion in 2020 and a 2022 report estimated that organizations lose 5% of their yearly revenue to fraud.
These costs are just the ones we can quantify. Intangible costs, like the cost of reputational damage, loss of trust, and loss of productivity mean organizations must act with integrity by default or risk a severe dent in the bottom line.
2. Shareholders and supply chains are placing increased demands on companies to do their bit
Sustainable investment has begun to take off over the last decade, with assets in the US totaling $8.4 trillion at the start of 2022, according to one report. Shareholders are now beginning to wield decision-making power based on how organizations act — and their potential impact — from an ethical point of view.
These changes are also trickling down to organizations' customers and supply chains, enforcing mutual accountability. As part of the CSR Directive, due to come into force across Europe in 2024, organizations must complete a double materiality assessment that identifies not only their biggest challenges to their CSR efforts but how these may precipitate financial risks to the business. This means organizations will need to scrutinize all external stakeholders for their CSR impact, including those in their supply chain, to uphold their own compliance requirements.
3. Consumer relationships with brands have shifted
Negative emotions can be a powerful driver and never more than at a consumer level, where purchasing power has begun to shift. A 2019 study into consumer behavior has found that we're becoming increasingly ethically driven when making purchase decisions, especially when we anticipate feeling guilt, anger, or shame. When we see organizations behaving badly, we're far more likely to boycott them and change our buying relationship entirely.
As consumers shy away from badly-behaved businesses, it's good news for organizations operating with integrity at their core that will ultimately have a competitive advantage.
4. Employees want to work at purpose-led organizations
Organizations rely on their workforce as the foundation of their success. But with organizations across all sectors facing chronic talent attraction and retention challenges, integrity is also becoming a key factor in how employees choose who they want to work for.
Much like the shifting relationship between consumers and brands, employees have become more purpose-driven in recent years, and increasingly evaluate organizations based on their ethical climate. When organizations fail to show proof of integrity in action, it impacts everything from their turnover intention and performance to employee well-being.
The cornerstone of future business strategy
Active Integrity is fast becoming the operational core of forward-thinking organizations as they look toward an uncertain future. Navigating these strategic challenges successfully hinges on what organizations do to shift their approach now.
Bringing integrity into the center of your organization's operating model requires the right resources, processes, and tooling that empowers everyone at your organization to do good because it's the right thing to do.
But we know that getting there is hard, and it's a long-term commitment that requires a whole-organizational change. That's why we put together our most recent ebook, Active Integrity: A new code of ethics for forward-thinking businesses. In it, you'll find out more about what Active Integrity is, how it can help you solve your biggest strategic challenges, and practical actions you can take to build an organization with integrity at its core. Download the full ebook today.